Say Bye to Acne – A How-To Guide
Right…so your new acne medication promises fast results in 10 days, but you've got to face the world today. What can we do to tie over the proceeding period before the acne goes down?
Well all you need is to learn a few creative acne makeup concealing tips to help you look your very best at school, work or play.
But remember — Makeup conceals acne, it doesn't cure it!
But you already knew that, right? Using makeup to conceal acne isn't difficult, but there are some basic rules that you should always follow.
Your basic acne makeup toolkit
Your three acne hiding weapons will be a concealer, a foundation and a finishing powder. Stay away from the dollar store and use only brand names that you can trust.
Choose only oil-free makeup products that match your skin tone. Oil-free is the key to success here so read the labels carefully. You don't want to aggravate your existing acne problem by layering a fresh coat of oil on skin that already has too much to begin with. Choose a hypoallergenic brand while you're at it.
If this is the first time that you are using a new brand, test the makeup applying small dabs to a spot under your jaw to see how your skin reacts. If you are going to have a problem you'll know within an hour or so after applying it. Nothing's worse than adding more blotches to an already colorful face.
Before you begin
Wash your face with your normal face cleansing product and pat dry. Apply your acne medication per the instructions and let it dry throughly.
Start with the concealer
Apply the concealer in a light dabbing motion directly to any dark blotches or red areas that the acne has produced on your skin. Blend the concealer in using a disposable facial sponge. Use the concealer sparingly. You can always apply more if you need it but you don't want to layer it on too thickly. It will look terrible when it dries.
Acne Prevention – How To Fight Acne Before It Happens!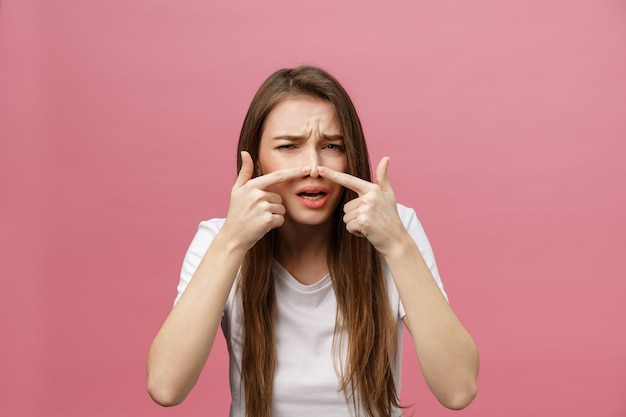 Acne is not the same as having a few zits, or a few pimples appearing on your face. it can even spread to different parts of the body, including your neck, your back, and your chest, and can be a very embarrassing skin condition. Those who have severe acne should most certainly seek the advice of a dermatologist for possible treatment options. For those who do not have acne, most of the time, you can prevent it from ever occurring. The following paragraphs will take a look at a few ways to prevent this skin condition.
Diet
Most people do not realize it, but our skin is the largest organ that expels waste from our bodies, in conjunction with our intestines, bladders, and colons. Because of this, how we eat will be reflected in by the condition of our skin. By eliminating unhealthy foods from our diets, we are decreasing the amount of toxin being expelled from our pores. Thus, we can help prevent an acne outbreak from development by eating a healthier diet. Nutrients recommended to add to your diet to help with acne prevention include:
• Zinc
• Vitamin A – Can help reduce sebum production.

Vitamin B6 – helps prevent premenstrual acne, and reduce the sensitivity to the effects of testosterone. By adding foods rich in these vitamins and nutrients to your diet, you can reduce your chances of getting acne.
Each of these vitamins and minerals can aid in the prevention of acne in their own way. While zinc, especially in the form of zinc gluconate or zinc sulfate, can reduce the androgenic hormonal effects on our skin.
Vitamin E – helps protect skin cell membrane from damage, as well as helps maintain healthy skin my eliminating harmful free radicals from our bodies, that can often be generated during physical activities.
Exercise
Getting regular exercise can also help prevent acne. When we exercise, we are increasing the blood flow to our skin, and providing more oxygen to our skin cells. Sweating moderately also cleans our skin pores from the inside out, also aiding in the prevention of acne. Regular exercise and moderate sweating are excellent ways of helping to prevent acne, but taking a shower immediately afterwards is very important.
Acne Skin Care – How To Clear Up Those Embarrassing Blemishes
People of all races and ages get acne. It is most common in adolescents and young adults. Around 85 percent of people between the ages of 12 and 24 develop the disorder. Nearly 17 million people in the United States have acne, making it the most common skin disease.
For most people, acne tends to diminish by the time they reach their thirties; however, some people in their forties and fifties continue to have this skin problem.
How Is Acne Treated?
You can buy over the counter medicine (OTC), see your family doctor, or a dermatologist (skin doctor).
Over-the-counter(OTC) Medicines
Benzoyl peroxide, resorcinol, salicylic acid, and sulfur are the most common topical OTC medicines used to treat acne. Topical OTC medications are available in many forms, such as gel, lotion, cream, soap, or pad.
Prescription Topical Medicines
Several types of prescription topical medicines include benzoyl peroxide, tretinoin, adapalene, and azelaic acid.
Some people develop side effects from using prescription topical medicines including stinging, burning, redness, peeling, scaling, or discoloration of the skin.
Prescription Oral Medicines
Oral antibiotics are thought to help control acne by curbing the growth of bacteria and reducing inflammation. Examples are clindamycin, erythromycin, sulfur, or isotretinoin. Some people experience side effects when taking these antibiotics, such as an increased tendency to sunburn, upset stomach, dizziness or lightheadedness, changes in skin color, and dry skin.
Acne Treatment- How to Take Care of Your Skin?
Basic skins care for acne can help you control aggravation and stop scars to a certain extent. Please take the following care
Do not pick acne. Trying to squeeze out blackheads or whiteheads may lead to further infection. Picking up acne at second stage may lead to scarring.
There is a misconception that excessive sweat or dirt can cause acne. In blackheads what you see black is not dirt but oxidized sebum. Please do not be harsh with your skin. That will aggravate the acne condition. Gently clean your face with mild soap or cleansers formulated to care for acne and warm water. Pat dry, do not rub.
Use noncomedogenic cosmetics and skin care products. Noncomedogenic products are certified to not cause or aggravate acne.
Protect your skin with sunscreens. Avoid getting tanned. If you are under treatment for acne, consult your doctor about sun exposure as some medicines make your skin more sensitive to sun.
Facials may aggravate your acne. Avoid any kind of facial if you have an acne outbreak.
Do you have the habit of touching your acne frequently? Avoid that. Also avoid any bangs coming on the forehead.
If you think that more than recommended dose of cream/lotions prescribed for your acne will cure acne faster, it is time to change your thinking. That may harm you rather than helping you.
Keep your face free of make up as much as possible. Let the skin breath fresh air. Acne prone skin needs fresh air.
Avoid using any oil or oil rich product for your hair. Use oil free hair care products. Oily hair may worsen your acne.
Do not get worried if your medication does not produce immediate result in treating acne. Consult your doctor and find out the time during which you would get relief from acne. Do not worry till then. Acne medication takes time to treat acne and produce clear skin.
DISCLAIMER : This article is only for informative purposes. This article is not intended to be a medical advise and it is not a substitute for professional medical advice. Please consult your doctor for your medical concerns. Please follow any tip given in this article only after consulting your doctor. The author is not liable for any outcome or damage resulting from information obtained from this article.